For a powerful synergistic effect, schedule these treatments back-to-back
Laguna Massage:
Swedish massage, Relaxtion or Medium Pressure massage
Effleurage is long strokes applying oil or lotion and relaxing muscles. Petrissage involves kneading, cross-manipulating and working muscles. Friction heats muscles and stimulates the skin and blood circulation. Tapotement is the signature step of slapping or soft-chopping at muscles. The final strokes are soft nerve strokes to relax and stimulate the muscles and skin
50 minutes $55
60 minutes $65
75 minutes $82
90 minutes $95
120 minutes $130
---
Deep
Tissue
massage
Sports
massage
Neuromuscular
massage
Sciatica
massage
Injury Massage

This massage works by physically breaking down these adhesions to relieve pain and restore normal movement. To do this, the massage therapist often uses direct deep pressure or friction applied across the grain of the muscles,
Sciatica, Lower Back, Neck Pain, Golfer's & Tennis Elbow, Leg/Runners/Joggers, Pain from workout, Whiplash, Syndrome, Neuromuscular, Joint Pain, Fibromyalgia and Hip & Knee Pain.
50 minutes $67
60 minutes $80
75 minutes $100
90 minutes $120
120 minutes $160
---
Bay Thai Massage:
Traditional Thai massage / Thai Yoga massage / Thai acuqressure massage


The massage recipient changes into loose, comfortable clothes. The receiver may be positioned in a variety of yoga-like positions during the course of the massage, but deep static and rhythmic pressures form the core of the massage. The body will be energized and rejuvenated after the massage.
The massage practitioner leans on the recipient's body using hands and usually straight forearms locked at the elbow to apply firm rhythmic pressure. The massage generally follows the Sen lines on the body—somewhat analogous to meridians or channels and Indian nadis. Legs and feet of the giver can be used to fixate the body or limbs of the recipient. In other positions, hands fixate the body, while the feet do the massaging action. A full Thai massage session typically lasts two hours or more, and includes rhythmic pressing and stretching of the entire body; this may include pulling fingers, toes, ears, cracking the knuckles, walking on the recipient's back, and arching the recipient into bhujangasana (or cobra position). There is a standard procedure and rhythm to the massage, which the practitioner will adjust to fit each individual client.
Unlike Swedish massage, oils or lotions are not required.
The roots of Thai massage are in India, where the concept of body energy lines was extended to include physical manipulation of these lines to increase or improve energy flow throughout the body.
Early writings indicate that the philosophy originated in northern India around 500 B.C. The teachings later spread and combined with Chinese medical concepts in Thailand.

50 minutes $67
60 minutes $80
75 minutes $100
90 minutes $120
120 minutes $160



---
Custom Massage (Combination Massage)

Consult with our therapists to create a specific massage,utilizing their skill sets to address particular areas needing attention. To customize your experience using multiple modalities, from these five favorites.

Relaxtion Massage
Deep Tissue Massage
Thai Massage
Bar Walking
Reflexology

60 minutes $80
90 minutes $120



---

Full Back Massage


When pain in your back starts troubling you and you want to avoid it in the future, then a Full Back Massage is an effective way to treat your back problems. Full Back Massage incorporates light and deep strokes, with mild pressure and firm kneading. It targets sore muscles in the shoulders, neck, upper and lower back. The treatment improves posture, whilst also treating spine and disk problems.
Apart from physical exercise, your body needs regular massage treatment to maintain fitness and wellness. Long sitting or standing gives your spine and neck lots of tension. If this tension is not released, it can harm your flexibility in the future. Full Back Massage is essential to keep your muscles in good condition, to ensure the overall health of your body. By increasing blood circulation in muscles and deep tissues, Full Back Massage promotes the curing of stiff muscles and inflammation resulting in pain relief. Eliminating toxins from your muscles, it makes them stronger and boosts your energy and stamina.
Even one Full Back Massage treatment will do wonders for the health and fitness of your body. Call and book a Full Back Massage to de-stress your body, improve your posture and condition your muscles. So, cure pain and discomfort to enjoy a healthy and active life!


30 minutes $45



---
Reflexology

Reflexology is a complementary therapy that aims to encourage the body to relax and work naturally to restore its own balance. Reflexology is based on the belief that all parts of the body are reflected in the feet and hands and by applying gentle pressure to these areas, it is hoped to have an effect on the corresponding part of the body and thus restore balance.
How does Reflexology work?
Reflexologists believe that areas on the foot act as small 'mirrors' of the body's various organs and systems. By using pressure techniques minute granular areas can sometimes be felt in the foot. It is thought that these occur in the part of the foot that corresponds to the part of the body that is out of balance. The Reflexologist's pressure and massage techniques are focused on breaking down these granular areas.


60 minutes $75



---
Intentional Aromathrapy Massage




In this signature treatment, which was created to honor Bay Thai Massage and Healing's 5 th anniversary, you will be introduced to the core "family" of ten aromatherapy oils and blends. Select the intention of the oil blend that resonates and it will be mixed for you.

50 minutes $67
60 minutes $80
75 minutes $100
90 minutes $120
120 minutes $160

---
Energy Healing Massage
Energy healing therapy works with the forces of nature. It is used in the treatment of stress and anxiety and helps the patients to be more comfortable and relaxed. It gives better clarity of thoughts and boosts the self confidence of the individuals. It helps in better self awareness and aids in improving the physical health with the aid of energy fields surrounding the body.

Holistic energy healing therapy is an alternative treatment for...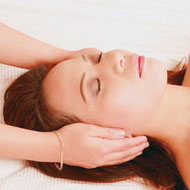 ...wide range of ailments like depression and forgetfulness. It works by removing the blocks which dampen the enthusiasm and lets the natural energy flow within the body to let the individual feel revitalized and bright.
Energy healing massage therapy helps to channel the natural energy in the desired manner so as to enhance self healing mechanism with the help of universal energy called Qi energy. It has shown great results in the treatment of injuries of back and spinal cord and even serious diseases like cancer. It helps in better physical, mental and emotional well being of the individuals.
It helps in improving the quality of life by letting great energy flow in the body thereby reducing the anxiety, tension and depression in the body. Energy healing massage therapy works in association with meditation and prayers in union with natural healing mechanism. This free balancing mechanism helps in maintaining the equilibrium of the body by bridging spirit, mind and the body to each other.
30 minutes $50
50 minutes $100
80 minutes $130
---
Relief Stress

Traditional Thai Herbal Compresses



Hot herbal compresses are frequently used in Thailand in conjunction with traditional massage. Hot compresses are used to address chronic problems, such as back pain and tendinitis, as well as to increase energy flow, improve circulation, relax muscles and stimulate nerves.
Hot compresses provide the same type of stimulation as acupressure, and are used to stimulate tender or sensitive areas that cannot be massaged directly; for example, the back may be too painful for direct acupressure, but hot herbal compresses on the same points will provide similar benefits.
Typically, a Thai massage therapist will not only place a compress to the area of injury or disorder, but will also work on acupressure points throughout the body to stimulate and relax the client, and to promote the body's natural processes.
If you want to offer a new service that addresses physical problems and makes clients feel pampered, you need look no further than the healing herbal compresses of Thailand.
60 minutes $95
90 minutes $135
---

Body Scrub




Relax and rejuvenate your body with a our back body scrub. This time honored exfoliation process removes dead skin cells, leaving your skin conditioned and hydrated allowing for a much softer and smoother appearance.


Full Body 30-45 minutes $80


---


Red Rock Treatment
: Body Scrub & Massage


Combine the rejuvenate benefit of our full body scrub with our body massage. The use of natural mineral oil and a freshly prepared cucumber mask clear the mind. Let this process decrease your stress, toxins, and your skin soft and smooth
$145 add deep tiusse $10
---

Outcall massage service at home, office in Laguna Beach, Corona Del Mar, Laguna Niguel, Dana Point


$120per hour
Last appiontment at 6 pm (Avaliable for couple massage)
Professinal massage, Non sexsual massage


---


Testimonials
"I am a strong believer in bodywork as a vital aspect of health and well-being. That said, there is a dramatic difference amongst massage therapists and the benefit they provide. Channa's work is beyond exceptional. She has an ability to revitalize, energize, relax, de-kink, and align while improving function and suppleness of the muscles."
—Leah Garcia, Former Pro Athlete
"By 3pm today my headache (which was the size of an elephant) was gone. I drove straight home and went to bed and slept on and off. OH WHAT A RELIEF TO HAVE IT GONE! I hope elephants never get headaches. THANK YOU SO MUCH FOR MY TREATMENT!!!!!"
—Janet Smith

"Enya, Thanks for the magic fingers!"
—Pat Powers
"Chanan Pillsbury is a leader in the field of therapeutic sports massage. What sets her apart is her ability to recognize and assist in the rehabilitation of sports related injuries in a personalized approach. Channa has a passion for her profession and upon meeting her, you will sense her caring and interest in giving you the best she has to offer."
—Ceal Barry, Former Headcoach CU Women's Basketball
"You helped me maintain my work schedule and reduced my pain [from a whiplash injury], making full recovery a reality."
—Rick Reynolds